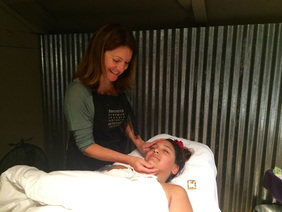 Our Salon and Skincare Services
Microdermabrasion and Facials
​
Our facials, performed by Cynthia, are custom tailored to your specific needs using Eminence Organic Skincare products. Cynthia incorporates massage, micro current exfoliation/plumping and décolleté treatments. Peels are also available.

Microdermabrasion exfoliates the top layer of dead skin cells using multi-faceted crystals. This promotes the regeneration of new skin cells and aids in the reformation of collagen and elastin. This nonsurgical and FDA-approved treatment has no downtime and offers immediate results.
60 minute Facial 115
90 minute Facial 145
Express Microdermabrasion 125
Microdermabrasion with Facial 155
"Venus is like my second home. I've been getting facials, waxing and hair services there for over a decade. I started seeking treatment for rosacea. Now the rosacea is gone and I'm often complemented on how well I am aging." - Denise E., Monterey
Waxing
​
Cynthia performs face and body waxing in her loft and her 25+ years in the industry makes for a comfortable experience!
Brow 20
Face 35
1/2 Leg 40
Full Leg 75

Arm 40
Back/Chest 50
Bikini Line 45up
Brazilian 70
Hair Services
​
Venus Salon hosts a group of professional hairstylists that specialize in haircuts, hair color, highlights, hair extensions, and event styles. Services are by appointment only.
Hair Menu

​

Shampoo and Blowdry 50
Men's Haircut 40
Haircut 70
Deep Treatment w/service 25
Flat-iron w/service 25
Hair Extensions Inquire

​

Root Touch Up 85up
Single Process Color 95up
Partial Highlight 105up
Full Highlight 135up
Highlights w/color 145up
Wedding Hair 125





"I discovered Venus soon after moving to the Monterey area and I'm so glad that I did! I have been returning pretty regularly, as I've been so pleased with their services. My favorite service that I seem to keep coming back for is the micro-derm facial. I love the Eminence products that Cynthia uses and she is so easy to like. I recently brought my mother to Venus for a facial with me when she visited from out of town. I think the dual facial was even better and I was impressed at how great it worked out with Cynthia treating both of us at once. My mother said it was the best she ever had and that she can't wait to do it again the next time she comes to visit! The atmosphere of the salon is light, airy, modern and not too big and "over-the-top", which I like. I've seen both Chris and Katie for hair cut/color services also and have been pleased with the outcome. A pleasant experience all around." - Kristen W., Monterey
---
Prices subject to change.